Shelter Looks to Expand Digs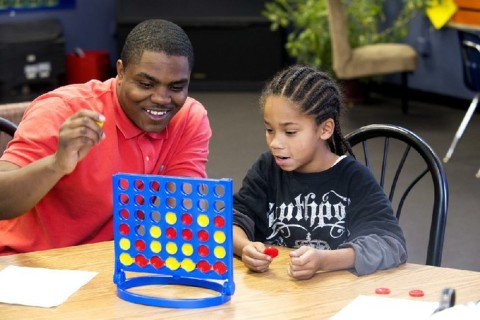 Children's center on LR facility's wish list for 2014
Photo by Karen E. Segrave
This article was published November 24, 2012 at 3:57 a.m.
LITTLE ROCK — Ask 8-year-old Zadie Farrell what she enjoys about the youth program at the Our House shelter and she'll rattle off a list. Her favorites include quiet time to do her math homework and baking chocolate chip cookies.
She's also quick to say what isn't so great.
"What's not really cool? Less space" in the education building, she said.
By 2014, however, Our House staff members believe that lack of space will no longer be a problem.
The staff at the shelter at 302 E. Roosevelt Road in Little Rock hopes by April to raise the last $1.2 million needed to build an 18,500-square-foot Our House Children's Center. The center, which will take 10 months to a year to build, is a $3.8 million project.
"It's going to be a literal investment in these kids' lives," said Ben Goodwin, the shelter's assistant director. "When they walk in, it will empower them [to think] 'people are really investing in me, so I, in turn, I'm going to make the most of that.'"
Our House, which provides housing and work-force training to homeless individuals who are serious about getting off the streets and putting their lives back on track, opened its family housing program in 1991, converting an ambulance garage from the old Veterans Administration Hospital into an education building. The building has been renovated twice, including $100,000 worth of improvements made last year, but it still does not feel like an educational environment, Goodwin said.
"There's a cabinet to separate the toddlers from the preschool kids," Goodwin said. "You can still see the structural support beams and pipes and overhead garage doors."
Goodwin said the approximately 7,000 square feet of space has only three rooms for children and doesn't align with the shelter's name, "Our House.
"It was called that because the original director wanted the kids to say, 'I'm going to Our House,' not 'I'm going to a homeless shelter.' It's a home for kids."
However, in a little more than 20 years, their home has become cramped.
During the school year, about 24 children are enrolled in the infant to 5-year-old program called Little Learners, while Our Club, for children 6-17, has about 25 children. Adult-education classes, which usually serve about 30 people, are also held in the building.
Including staff members, there are around 93 people in the building on any given day, Goodwin said. In the summer, the number increases to about 150, with more schoolage children using the education building.
"The summer is just a very critical time for these kids. If they don't have anything to do, and they're just staying home all day, [that's] bad [for] emotional development," Goodwin said. "We see a lot of families become homeless in the summer."
Since the building's daily capacity is 50 people, many youth programs can't be held in the building, dispersing the children throughout other buildings on the shelter grounds, Goodwin said. The new center will be able to hold 142 people.
"It's not uncommon to walk through the kitchen … past a speech therapist working with a 3-year-old," Goodwin said.
The education building will be renovated and used primarily for adult-education courses.
Along with an educational curriculum and a licensed child-care center, Our House also provides the children with medical, dental and behavioral-health services, handled by organizations such as the Little Rock Community Mental Health Center. However, it's hard for the services to be effectively delivered in such a small space, Goodwin said.
In October 2010, a planning committee met with the shelter's board of directors to come up with a way to solve the space problem.
They determined that the answer to the problem was a new children's center.
Earlier this month, the board closed on a deal to purchase a 1.429-acre property adjacent to the Our House shelter that was owned by the Institute in Basic Life Principles, an out-of-state nonprofit that owns much of the property around the shelter.
The estimated $3.8 million project includes "property acquisition, remediation, architect/engineering fees, furniture, landscaping, playgrounds" and construction of the center, Goodwin said.
The J.E. and L.E. Mabee Foundation Inc., a private charitable foundation with offices in Tulsa, committed a $665,000 grant to the project, but it hinges on raising the remaining funds by April 10, said Our House Executive Director Georgia Mjartan.
"In the last couple of years, the demand on our programs has grown so much that we have had to turn away homeless children," Mjartan said in an e-mail. "We never want to have to say 'no' to a parent who is ready and willing to work, who wants the best for their child and who has turned to Our House for help."
The only entrance to the education building is from East Roosevelt Road, but the new center will have an entrance on 24th Street.
"It will change our relationship with the community," Goodwin said, adding that the new center also will be able to help more disadvantaged children within the community.
"One of our big strategic objectives … is to serve families on a longer term or before they become homeless," he said.
While there is a playground on the Our House property — built by volunteers six or seven years ago — it's not near the education building. Plenty of outdoor learning and play spaces will be provided around the new center, Goodwin said.
"Kids play on the parking lot. There's no open grassy space, no playground equipment, no classroom activity space, just a parking lot," Goodwin said. "Outside isn't necessarily ideal for our programs because the freeway is here, [making it difficult to] listen to someone talk."
The new center will include a nurse's station where health professionals can see and work with the children, Goodwin said.
Architects are also working with experts to follow building-code requirements for learning programs such as Head Start, which may be able to provide grants in the future.
"If Head Start says, 'you have to have 25 square feet of playground space for each child,' we made sure we included it so that would be an option for us, that funding source," Goodwin said as an example.
Jennifer Herron of Herron Horton Architects in Little Rock, which designed the proposed children's center, said one of the standout features of the center will be an approximately 2,000-squarefoot room that will be able to hold 80-100 people at a time for events ranging from birthday parties to hair-cutting clinics.
"When we're designing these spaces, it's crucial we understand the kids we're working with," Herron said. "A quiet room is so important, or a place to have their belongings, because homeless children might not have a spot with their name on it."
Zadie Farrell said she is most excited about the new center's art room.
"I like drawing and painting and sketching, mostly animals and outside things," Zadie said.
Our House resident Cynthia Watson, a cook for the youth programs, said she's excited about the new center's bigger kitchen and more space for her 15-year-old son, Tarrance.
"It gives Tarrance a place to go," Watson said. "[But also for] security reasons. It helps keep … him around positive influences."
The center will include a teen room, giving the older children a place to relax.
"I can have more space to myself," Tarrance Watson said about the new center. "It's a good program to be in once you're out of school [for the day]. It gives you time to do homework and focus … and meet a lot of new people."
Our House resident Melissa Farrell, a single parent who is the mother of Zadie and 12-year-old son, Kaleb, said the youth programs have provided her children with stability.
"It teaches leadership, how to be a kid again," Farrell said. "Having some oneon-one time with homework and reading. [The staff] puts in the time I don't have" with a full-time job.
On Dec. 13, Our House will officially announce the project to the media, donors and others, and will discuss the organization's fundraising efforts.
"Our goal is to have the building open before June 2014," Goodwin said. "Summer is a big crunch time for us, with a lot of extra kids coming in."
In December, Farrell and her family will leave Our House when she completes her two-year stay, the longest anyone is allowed to remain at the shelter. However, they won't be far away and are eager to help the new children's center succeed, Farrell said.
"I will probably volunteer" to give something back for what she and her family have received, Farrell said.
Arkansas, Pages 11 on 11/24/2012
Print Headline: Shelter looks to expand digs