From Homeless to Our House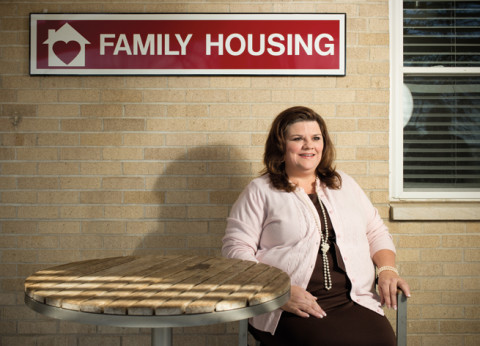 When most people picture a homeless person, the attractive, put-together brunette at bottom left is not who we envision. The homeless are often stereotyped as a group of dirty, disheveled people who beg passersby for money.
In reality, many homeless men and women are hardworking people who are going through unimaginable loss, mental illness or just a string of really bad luck. They often have families, hopes and dreams and simply need some assistance and compassion — a hand up, not a handout.
Janis
Four short years ago, Janis Newberry was one of those people. A native of Atlanta, Janis moved to Little Rock in 1984 with her parents and two younger sisters. The family moved frequently for her father's job, so when Janis enrolled in Mount St. Mary Academy, it was her fourth high school.
She will never forget registration day for her senior year at MSM — not because it was filled with the usual anticipation and excitement of the final year of high school, but because it was the day her mother was diagnosed with cancer.
"She was sick for six years," Janis remembers, "so I mainly took care of her." While Janis' classmates were leaving for college in different cities and states, Janis stayed behind and attended the University of Arkansas at Little Rock for a year while she tended to her mother. "My dad was still here, but he was a sales rep and had to travel for work."
Janis continued to be her mother's primary caregiver until she passed away in 1990. Not long after, her father fell ill, also with cancer. He recovered only to succumb to a heart attack a year later.
"It was rough," Janis admits. "I was kind of selfish though. I felt like I was left behind with college and my friends. While everybody else was dating and getting married, I was taking care of sick family members. I started drinking more often, and it just spiraled out of control into my late 30s."
When Janis' best friend since third grade passed away and she and her on-and-off boyfriend of eight years broke up, things got even worse.
"It was one bad thing after another and I just could not pull myself up out of the depression. I tried so hard," she said. "I was miserable. You've seen the commercials for depression? For me, it seemed just like that only tenfold."
She finally reached her breaking point in 2009, when during a drunken blackout she attempted suicide.
Picking Up the Pieces
Janis doesn't remember attempting suicide, only waking up after a week-long coma to find herself in the hospital, where she spent three weeks recovering and receiving psychiatric treatment. She was released in August 2009 to discover she'd lost her apartment and her job. To make matters worse, her car was overheating and running poorly.
Desperate, Janis remembered Our House from an errand she had run for her sister. "In March of that year, my sister had made meatloaf for Our House through the church we attended. She asked if I'd deliver them for her, and I did. I remembered that trip and knew that's where I needed to go."
The shelter was at capacity when Janis arrived, so she slept in her car for two days until there was an opening.
"I hadn't really paid attention the previous March, but this time I saw Our House through the eyes of a resident," she says. "People have an image of shelters as cold, dark places with cots and bugs — at least I did. But Our House was nothing like that. You have a living space where everybody can mingle; breakfasts and dinners are served at large tables where residents come together like a huge family. The dorms are well kept, and you have your own little living space. For the situation, they couldn't make it any more comfortable than it is."
She lived at Our House for a year and a half, during which time she worked as a shelter superintendent from midnight until 8 a.m. then attended college at UALR during the day. Her schedule was packed, but Janis says she was happy for the first time in a long time. "I got a lot of my confidence and self-esteem back. I felt like I got back what I missed in my earlier years."
In addition to working and going back to school, Janis received counseling at Our House to help manage her depression. "I got a clean slate with my brain and how it worked at that time. They said 'Open your mind. This is what we have to offer, and it's up to you if you want to choose it.' It was such positive encouragement."
Building Brighter Futures
Our House is a long-term program with the expectation that its clients will not return, says Executive Director Georgia Mjartan. "Many homeless shelters provide short-term 'emergency shelter' for individuals in need and end up seeing the same clients month after month. That's what we call the revolving door syndrome. This doesn't happen at Our House. People are required to get jobs within 16 days of becoming a resident (and we help them do that), we teach them to save money [75 percent of their earnings] and we build them up through education, training programs and counseling so that by the time they leave Our House, they are able to make it on their own."
Another cornerstone of Our House is that it accepts both individuals and families. It is the only program in the state that allows a single, homeless father to come and stay with his kids long-term while the family transitions out of homelessness, says Georgia. "There is nothing else in Arkansas like what we do. We are definitely the only licensed child development center on the campus of a homeless shelter in all of Arkansas. And we also run the state's first and only out-of-school time program (after-school and summer program) targeted at homeless, school-aged youth."
It's an unfortunate truth that a large number of the residents at Our House are children, like the twin babies with bright eyes and deep dimples that we met on a recent tour of the facility.
"Over the past couple of years, the number of children living in our shelter has skyrocketed," Georgia says, "increasing 47 percent from 2010 to 2011." HomelessChildrenAmerica.org even ranks Arkansas third-worst in the country for child homelessness, with almost 14,000 homeless children at any given time.
The youth programs at Our House — along with the adult education programs — are currently crowded into a 7,000-square-foot, 65-year-old former ambulance garage. If you stand in a certain spot in the facility, you can actually feel where the floor slopes toward a drain.
Georgia says it breaks her heart to turn children away from Our House's youth programs, but oftentimes, she must. "We want to offer our services to children even after they move out, to provide a stable home for them through yet another transition, but many times we are unable, due to lack of space."
To remedy the situation, Our House is raising funds through its Room to Grow capital campaign to build a new, 18,500-square-foot children's center. The new center will be able to serve 142 children per day, up from the current building's capacity of 50 per day.
At press time, Our House had raised more than $3 million for the new facility. The organization was awarded a $665,000 challenge grant from the J.E. and L.E. Mabee Foundation, but the staff of Our House is still working hard to hit their $3.8 million goal by April 10.
Raising Critical Funds
That's where young, energetic volunteers like Andrew and Meghan Collins can make a big impact.
A native of Washington, D.C., Andrew was raised in Little Rock. After graduating from Duke University (undergraduate) and Columbia University (law) he served as an AmeriCorps Volunteer in Service to America (VISTA) at the New York City Coalition Against Hunger. There he connected soup kitchens and food pantries with the resources and information they needed to better serve the needy. He moved back to Little Rock to work in the family real estate company, Cypress Properties, two years ago and joined the board of Our House this past summer. He and Meghan — who is a typesetter at The Social Type — are co-chairing this year's Dinner on the Grounds, an outdoor Southern supper and the largest fundraising event of the year for Our House.
The theme for the event is Hope in Bloom, a nod to both the season and the Room to Grow campaign. The dinner will take place on the sprawling lawn of the Terry House and guests will enjoy live jazz entertainment, a full Southern catfish dinner and libations. Proceeds from the event will benefit the numerous programs of Our House, including the new children's center and the summer youth programs.
"Meghan and I are engaged at all levels to make sure this event is a success in raising funds for Our House programs," Andrew says. "Dinner on the Grounds comes at an important time of year, right before the summer youth program starts up. That program is one of the best things Our House does, and it's effective in helping children and their parents, but it requires significant resources. Funds raised from Dinner on the Grounds go directly to ensuring that the summer youth program can proceed."
In addition to purchasing tickets to Dinner on the Grounds or donating funds, there are plenty of other ways to get involved with Our House. Volunteers are needed to serve meals, teach classes, mentor the working homeless, and even spend time with the kids. "We always need volunteers to read stories to our toddlers, rock babies in the infant room, or even serve as a chaperone for our school-aged children on field trips," says Georgia.
As for Janis, she now has a full-time job, her own place to live and her life back on track. "I think it's so important that people seek help and not be so quick to judge. You never know when it might be you or a child or a friend," she says. "I thank God [for Our House] because there's no place like it. Had it not been for them, I know I wouldn't be here today."
Hope In Numbers
364: The number of adults who left Our House with a full-time job in 2012 (55%)
76%: The percentage of adults who leave Our House with money in savings (an average of $1,100 per adult)
1,196: The number of distinct people Our House served in 2012. Of these, 885 were residential clients. The remainder participated in one or more of the supportive services (child care, youth programs, adult education, case management and more) and most of these were former residential clients.
Dinner on the Grounds: Hope in Bloom
When
6:30 p.m., Friday, May 3
Where
Terry House lawn
Tickets
$150 per person
(funds two weeks of Our House's summer program for one homeless youth)
Info
374-7383, ext. 228, www.OurHouseShelter.org