Putting parolees back to work through Little Rock's Reentry Program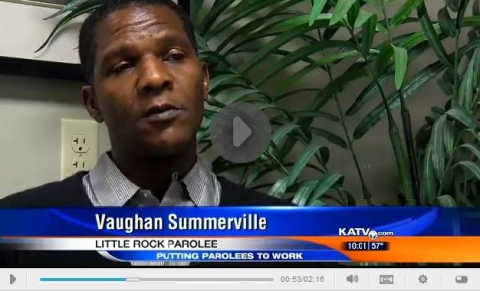 KATV – Breaking News, Weather and Razorback Sports
"You're not defined by your past, you have to look forward to your future," said Summerville.  "Don't let your past hinder you with anything that you do in life."
LITTLE ROCK (KATV) – Life fresh out of prison is not easy to adjust to; it's not any easier for Vaughan Summerville, a 49 year-old man who got into some trouble.  Now he's part of a program run by the city of Little Rock helping him get back on his feet and get a job.
"I stopped thinking about what was important and I put those things before what was important," said Summerville, claiming that's how he landed himself behind bars.
Although armed with a high school diploma, Summerville had struggled with proper etiquette in dealing with professionals, how to look appropriate and needed help cleaning up his resume.
"I thought I was going to be totally messed up," said Summerville referencing his release from prison.
But lucky for Summerville, just a year ago the city of Little Rock invested $500,000 in a parolee re-entry program – the first Arkansas municipality to do so.  The program – for non-violent offenders only provides parolees with training to help them attain employment.  Dorothy Nayles, Little Rock's community programs director, said residents mentioned a need to invest in the human capital of the city.
"For many of these people what we're finding is that they've not had anyone to help them understand obligations, responsibility," said Nayles.
Nayles said the city is trying to make productive tax-paying citizens out of people many have given up on.
Little Rock partners with organizations like "Our House" to help provide parolees not only a roof over their heads but counseling to help recognize issues parolees have and ways to correct them.  The goal of the program is to help parolees gain employment through job skill training, behavior management and education among other things.
Many of the jobs for those in the parolee re-entry program are based out of city departments like public works and even the Little Rock Zoo.  Summerville was able to gain employment in the private sector with All My Sons Moving – he's been working there for six weeks.
"We want to see that a person has been on the job at least nine months and has had a promotion or increase in salary," said Nayles, commenting on the way the program plans on measuring success.
But Summerville says he hopes to take it one step further – he wants to go back to school.
"You're not defined by your past, you have to look forward to your future," said Summerville.  "Don't let your past hinder you with anything that you do in life."