John Russell 'Rusty' Mathis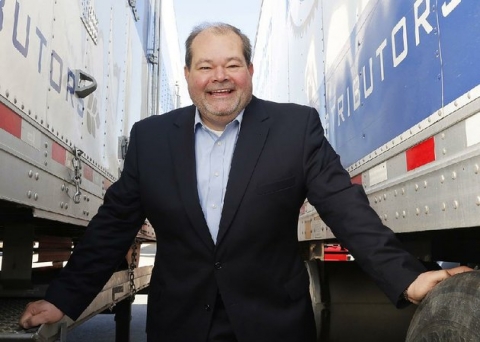 Plying one trade or another since childhood, Rusty Mathis loves work that suits his gregarious nature. But the general manager of Ben E. Keith Foods in North Little Rock isn't all about work – his pen.
By EMILY VAN ZANDT SPECIAL TO THE DEMOCRAT-GAZETTE
PHOTO BY JOHN SYKES JR.
For Rusty Mathis and his wife, Stacy, rarely a week goes by that they don't have a couple of fundraisers or other socializing-for-a-cause events. Under his leadership, food distributor Ben E. Keith Co. in North Little Rock has become widely known in Arkansas as a frequent sponsor of charitable events, often serving as a food sponsor.
"Rusty is what my wife likes to call connective tissue; he brings people together," longtime friend and Museum of Discovery Chief Executive Officer Kelley Bass says. "He's the single reason we've had two of our most successful fundraisers at the museum."
Like a gratis wine-fueled game of Where's Waldo, Mathis can nearly always be found in the middle of a group, and likely in the middle of a story. If he's not throwing the party – maybe a fundraiser for the Thea Foundation for arts education or the Our House shelter for the working homeless – chances are, he invited some of the guests.
With a penchant for big stories and eyebrows hitched in a welcoming arch, the 53-year-old general manager of Ben E. Keith Foods is the kind of person you want at parties, regardless of the purpose.
"I've really never seen him not smiling," Nicholas Bradley-Hole, manager of rooms at the Capital Hotel, says. "No matter what's going on, he wants to make people feel good."
That kind of good cheer surely comes from an uninterrupted streak of good fortune and felicity, but, of course, it has not been so. His childhood and early career were a scrape, and just when things got really good, the worst kind of tragedy struck.
No, there was nothing white collar about the way the Mathis family lived. Born in Memphis in 1960, the youngest of five, Mathis moved with his family to northeast Arkansas when he was so young he doesn't remember the trip. In Monette, and then Leachville, Mathis watched his father work around town as a television repairman, his mother at a company called Florafax.
"I say I grew up poor, but not without," Mathis says.
The family of seven shared what Mathis remembers as no more than 1,200 square feet of house. And there were always neighborhood kids around. The Mathis brood was sociable.
But for as much fun as Mathis remembers those years, there was always work. Jobs were a constant for him and his siblings, with his first coming courtesy of his grandmother.
At 10 years old, Mathis was put in charge of collecting the rent money from store owners of several buildings his grandmother owned in town. Because, really, who can get mad at a fourth-grade rent collector?
"I'm sure that's why she did it," Mathis says. "They always had [the money] ready to go. It worked out pretty well."
The money Mathis collected helped support his immediate family. On the days he wasn't knocking on doors at the start of the month, Mathis shined shoes at local barbershops. If it was summer, he'd be in the fields of local farms, picking watermelons or chopping cotton. Work – working, acquiring new work, innovating along the way – was constant.
But while the drive was always there, Mathis still wasn't settled on a career when he graduated from high school in 1978. That he'd go straight into a job, rather than college, was a given. But a few months into factory work – repairing sewing machines at a local shoe manufacturer – made one thing very clear: Mathis needed interaction.
"I wanted a more social job," Mathis says. "Being in the factory wasn't going to work."
So he quit.
"My mother brought a newspaper down and set it in front of me," Mathis says.
They had a trailer in Hot Springs that their youngest could stay in rent-free if he'd find a job. His finger landed on "Bellman Wanted."
HOSPITALITY RULES
When you're 19 in rural Arkansas, the idea of a bellman conjures up images from old movies: pill hats and heavy uniforms. Constant "Yessirs." Hauling suede and damask luggage. Tips, of course.
When Mathis started his job as bellman at the Holiday Inn Lake Hamilton in Hot Springs, the boy from Leachville quickly realized that things in the real world didn't always reflect the Hollywood vision.
"You don't realize how sheltered you are in these small towns until you see life really happening," Mathis says. "And life in a hotel is pretty different."
Room service calls became the most eye-opening part of the day – not everyone answered the door fully clothed.
Appropriate dress was more consistent in the lobby where Mathis spent his downtime chatting with the jockeys, trainers and owners who frequented the bars and restaurants. He enjoyed talking to the guests, learning their stories and making them feel at home. The hotel's general manager saw Mathis' knack for getting along with the guests and took the young bellman under his tutelage.
"Hospitality matched the way I was raised, very polite," Mathis says. "And my work ethic from summers in the fields really prepped me for the long hours in hospitality."
At 20, Mathis had finally found his direction. He set his sights on the title of general manager. From bellman, he worked his way up to desk clerk, then director of sales, then assistant general manager of the hotel.
"I grew up in a blue-collar environment, so to see myself in a business environment with a good wage and good career path was big."
After a short time as assistant general manager at the hotel in Hot Springs, Mathis was asked to take on the role of general manager at a new Holiday Inn being built in Camden. At just 22, with a young wife and son, Mathis found himself in his dream job. Except, it wasn't.
SALESKRAFT
"Frankly, I was in over my head," Mathis says. "I left of my own accord."
The hours were weighing on his family, so Mathis took a job back in Hot Springs, this time at a buzzing restaurant, The Sawmill Depot. Though long since closed, Hot Springs die-hards still wax poetic about the Sawmill, and Mathis counts managing there as one of his favorite resume lines. Still, "when sales people would call me, they'd always tell me that's what I needed to be doing," he says – sales.
So he jumped to the other side of the business, taking a job with Kraft in 1987. For seven years, he worked in sales for the food brand he remembered so much from his childhood.
"K-R-A-F-T was a big deal for me," Mathis says. "I thought that was what I was supposed to do."
But soon, his background became a hindrance. With no college degree in hand, he quickly exhausted what advancement the Kraft corporate ladder allowed. He wanted to be in management, but that wasn't an option.
"There was a glass ceiling there," Mathis says. "And at the time, I wasn't going to be able to go back to school."
So when Ben E. Keith, a privately owned regional food distribution company, came calling, he thought the smaller company might provide him opportunities for promotion. And he was right. In 1994, he left Kraft to join the team at Ben E. Keith as a sales representative in Mountain Home and after little more than a year, he became a district sales manager.
The work was exactly what he liked about the business – talking with people in restaurants and schools and other clients daily about their needs and, thanks to his years of experience in the hospitality industry, doling out advice on management.
In 2001, the Fort Worth based company promoted him to assistant general manager of the New Mexico Division. But as Mathis prepared for the move to Albuquerque with his second wife, Stacy, he got the kind of news that knocks a life off course: His son, Tim, a freshman at the University of Central Arkansas, had been killed in a car wreck.
For Mathis, everything went dark.
THE LADDER SIDE OF THE SLIDE
Paul Leopoulos describes the unique bond between him and Rusty Mathis as part of the worst kind of fraternity. Both Little Rock men lost children the same year.
"We've cried together," Leopoulos, who founded the Thea Foundation in honor of his daughter, says. "Even though it's 13 years ago, it's still right there and you never get over it or move past it."
Mathis readily admits that he is an emotional man, and he still chokes up when talking about Tim's death. In the weeks and months immediately following the crash in December 2001, he turned to reading to process the pain. Tim had lived with Mathis full time after his parents' divorce, and the two had formed the tight bond that often comes with single parenting.
"You want to have some hope, some good feelings about what has happened when someone you love like that passes," Mathis says.
So he began devouring books about life and death and acceptance – some faith based, some not – in an attempt to move forward.
"When you lose your child, you can do one of two things: You can give up and hate the world, or you can keep moving forward and try to change the world," Leopoulos says. "And Rusty has chosen to try to change the world."
Though he'd always been a charitably minded man, Mathis' passion for nonprofit work surged after Tim's death. He founded the Tim Mathis Memorial Scholarship Fund and began organizing a yearly songwriters festival at the Arlington Hotel in Hot Springs to fund the effort. After his move to New Mexico for Ben E. Keith, he parlayed his role as general manager of the division into philanthropic work on the board of a local food pantry, The Storehouse. His goal was to be on the ground floor of charity work.
"Local, grassroots organizations became a passion," he says. "Growing up the way I did, it made sense to help others where I could and to help guide Ben E. Keith to do the same."
Though he never thought he'd return to Arkansas, when the call came to move to general manager of the company's Mid-South Division, Mathis jumped at the opportunity to be closer to his remaining family. In 2007, he and Stacy moved back to Little Rock, and he quickly found there was plenty of help to give in central Arkansas.
FUNDRAISER
In addition to partnering for fundraisers, Mathis serves on the boards of Our House and the Thea Foundation and has served as chairman of the American Heart Association of Central Arkansas' Festival of Wines and co-chairman of Pulaski Technical College's Diamond Chef cook-off. On Monday, he'll scoot over the Arkansas River to the Capital Hotel to support the second annual Governor's Culinary Challenge as it raises money for the Thea Foundation scholarship fund. It was Mathis' idea last year to bring leading chefs and bartenders in Little Rock together for the fundraiser.
On Friday, he'll be at the Terry House at Seventh and Rock streets in Little Rock for Our House's ninth Dinner on the Grounds. Ben E. Keith is the presenting sponsor.
At the Capital Hotel, Bradley-Hole has no doubt he'll find Mathis at Monday's food fest surrounded by at least 10 friends.
"I get the feeling that he doesn't like to be alone," Bradley-Hole says. "He's so authentic. You get the feeling he would give you his last dollar, and I know I would go to the end of the earth for him."
For all the socializing, lunch meetings and board meetings he manages to squeeze into a week, Mathis doesn't leave people with the sense that he's too busy to care. Even on business calls, he manages to serve clients as more than a food distributor.
"I know I can call him when I'm not having a great day at work and he'll remind me of why we do what we do," Bradley-Hole says. "He's like a mentor, father figure and best friend for me. His pep talks are like a coach on the sideline for a football team."
With so much already on his plate, it's hard to imagine that Mathis could take on much more. But the next two years promise to be the biggest of his career with Ben E.Keith. In December, the company announced plans to expand on 70 acres at the northwest corner of U.S. 70 and Interstate 440 for a regional headquarters, truck maintenance garage, truck wash and fueling station. The project is projected to cost $60 million, add 80 employees and open sometime in early 2016.
"It's really amazing to see the company grow like this," he says. "I'm proud of where it's going and to be a part of that."
And there's no doubt that Mathis' part has been substantial. In Little Rock, he has not only been the face of the company, but the voice and heart.
"I'm a softhearted guy," he says. "It's hard for me to say 'no.' And I feel like the company has a responsibility to walk the walk and help wherever we can."
SELF PORTRAIT
Rusty Mathis
DATE AND PLACE OF BIRTH: Aug. 2, 1960, Memphis
FAMILY: Wife, Stacy, daughter Savannah Mathis Myers, and stepdaughters Journey Nolan and Torin Nolan
NICKNAMES: I have been called ''Rusty'' my entire life, but I have friends that feel they need to take one step further and call me Rusty Bob.
WHAT'S ALWAYS BY MY BED: Cellphone, remote control, fan … and many nights a Popsicle.
MY MORNING ROUTINE: Strong coffee and email.
MY GREATEST STRENGTH: Building and developing teams.
MY FAVORITE MEMENTOS: My dad's pocket watch and an old photograph of my family when we lived in Memphis.
PEOPLE SAY I REMIND THEM of someone they've known all their lives.
I WON'T EAT: I haven't found anything yet.
I HAVE A PHOBIA about snakes.
MY TRADEMARK EXPRESSION IS "Hey buddy, how's it going?"
I DON'T TRUST PEOPLE WHO: I typically trust everyone.
WHEN I'M NERVOUS, I sweat.
I WOULD NEVER WEAR a Speedo, and you're welcome.
I'D GIVE ANYTHING TO HAVE MET Dean Martin.
IF I'VE LEARNED ONE THING IN LIFE, it is The Golden Rule
IF I COULD CHANGE ONE THING ABOUT MYSELF, IT WOULD BE to have taken better care of my body over the years.
MOST HUMBLING EXPERIENCE: My children, who don't care who you are or what you have accomplished. They love you because you are their dad.
MY FIRST JOB: Shoeshine boy
MY PERSONAL HEROES: My mother and father, who did a lot with very little.
MY MOST RECENT ACHIEVEMENT is being inducted into the Arkansas Hospitality Association Hall of Fame.
NEXT YEAR, I PLAN to build a new distribution center.
ONE WORD TO SUM ME UP: Compassionate
High Profile, Pages 37 on 04/27/2014
Print Headline: John Russell 'Rusty' Mathis