Taking it Outdoors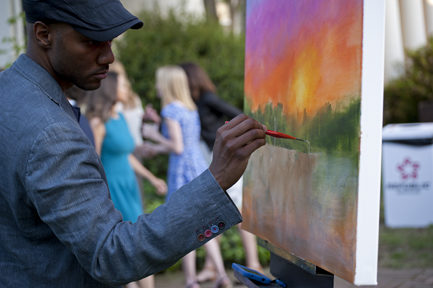 Terry House dinner event fills the plate for Our House
Dinner on the Grounds has become the see-and-be-seen outdoor fundraiser of the year, y'all.
Between social connectors Yvette and Andrew Parker and Our House executive director Georgia Mjartan, the event May 2 at the Terry House had a palpable let's-do-lunch/let's-do-business vibe.
"It's kinda like you can't get a drink or a bite of food because you're always stopping to talk to people," said Hannah Vogler, herself a convicted social connector and catalyst for networking and fundraising.
The Parkers and party planners did their best to make the grounds a many-ringed circus this night. There were yard games like ladder golf, giant Jenga and Baggo (cornhole), folks in cool linen sports coats and summery print dresses, a couple of buffet lines of Simply the Best catfish and baked chicken and fixin's and several varieties of desserts. As promised, Diamond Bear Brewery had tapped a few kegs of root beer and Loblolly Creamery had three varieties of ice cream, including a dynamite salted caramel.
Not to be out-networked, former Lt. Gov. Bill and Shanti Halter were there with Democratic candidate for that seat John Burkhalter and Penny Burkhalter, one-time House Speaker designate Darrin and Nicole Williams, and U.S. Rep. Tim Griffin.
Mjarten said while taking a break to pile a small plate that she'd like to believe the enthusiasm and energy has something to do with the families and kids served by Our House — the shelter for the working homeless, the night's beneficiary — but she acknowledged that another part of the night's success "is the building year after year, [the expectation] that this is the place to be."
High Profile on 05/11/2014
Print Headline: Taking it outdoors