Arkansas Struggling with Homeless Children Population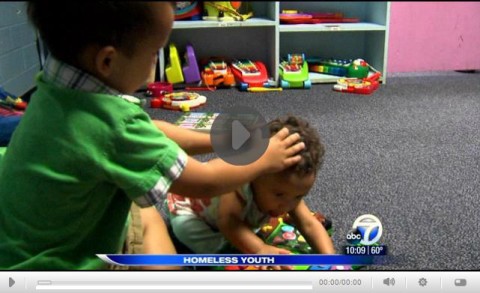 KATV – Breaking News, Weather and Razorback Sports
By Matt Mershon, Reporter
LITTLE ROCK (KATV) – They're neatly dressed, hair done, like any twenty-first century child they love playing on the computer.  From their appearance it would be hard to tell that Neveah Hendrix and Abigail Woodall are actually homeless staying at Our House, a shelter for homeless individuals and families.
"We moved up here because they found a lot of black mold and my dad didn't want me to get sick," recalled Hendrix, age 7.
Hendrix remembers not having food to eat at times – her family waiting on food stamps to arrive.  Being able to eat meals in the shelter's dining hall is a high point of being able to stay in a shelter for Hendrix.  She says she loves living at the shelter, but Georgia Mjartan, executive director of Our House, said she loves it because it's the closest thing she and many other kids there have had to a roof over their heads.
"No one in this state when they think about homelessness thinks about a beautiful little baby or a teenager who's going to school, who's studying for the ACT," said Mjartan.  "No one thinks about that when they think about homelessness and that is who our homeless are in this state."
Mjartan said the state ranks toward the bottom of the United States when it comes to homeless children.  Nearly 14,000 children in Arkansas don't know where they'll be sleeping tonight.
"Arkansas is ranked third worst in the nation for child homelessness for a number of reasons," said Mjartan.  "Because of the number of homeless children compared to the population, so the percentage, but also because of the lack of policy systems in place."
It's the Arkansas Department of Education that is the agency tasked with keeping track of the state's homeless children, and because of the lack of public policy Mjartan mentions, much of the assistance given to homeless children falls on the public school system.
"School for many of these kids truly is a safe place to be; a place where people love them, a place where they are able to learn, but also a place where they're able to eat and get help," said Dr. Jerry Guess, superintendent for the Pulaski County Special School District.
PCSSD has roughly 500 students district wide that are homeless.  It's an issue the district takes very seriously.
"If a child is unsure of whether or not he or she will have a bed, if a child is unsure of whether or not he or she will have breakfast or supper, it produces tremendous anxiety; it affects performance in the school," said Guess.
Because of the known affects homelessness has on students, Arkansas requires every school district in the state to have a homeless liaison.  Joe T. Robinson Elementary School, part of PCSSD, has backpacks for each of the homeless children to take home each weekend that gets packed with food.  The school has clean clothes for the children as well.
"It's our job and our responsibility at the schools to help students have the best conditions to be able to learn," said Kim Truslow, principal at Joe T. Robinson Elementary.
However the things these children do receive while at school are not paid for by local tax dollars, but rather grants and private funding.
"Most of the funding that we do get comes from private individuals or from churches who will come in and say we have a hundred dollars that we'd like to give – we keep that in a separate account and we will use it if there are needs presented to us," said Truslow, referencing community partnerships the individual school maintains as well.
But once homeless children leave school, the problem begins all over again.
"There are not enough shelter beds in our state," stated Mjartan.  "Even if every single homeless parent or child came into a shelter and chose to do that, there still would not be enough beds."
Turning someone, especially a child away, is one of the hardest things Georgia Mjartan has to do.  Unfortunately for some children, she must turn them away.
"Whether it's Our House, whether it's the Rescue Mission, whether it's Salvation Army – no matter who, all of the big shelters in town, we have to turn you away if you are under 18 and you're not with your parent," said Mjartan.
For many gay youth in Arkansas that's a problem.
"In 2013 we worked with about 20-25 young adults," said Penelope Poppers, founder of Lucie's Place, a homeless outreach program for gay youth.
"Every single one of them was homeless because their parents or guardians used some sort of religious doctrine to justify kicking them out of their homes."
Poppers, a transgendered female, said many take shelter underneath the Broadway Bridge in Little Rock.  Even though many of those youth are now over the age of 18, they still don't have a place to stay.  Many of the agencies that cater to the homeless in Arkansas are religiously affiliated and turn gays away.  It's why Poppers has come to their aid, gathering funds to purchase a home to eventually house roughly six gay, lesbian or transgendered people at a time.

"I visited with people and heard their stories and I realized that if I didn't do anything about it, no one would," said Poppers.
Poppers hopes to have the shelter up and running by 2015.  She knows there's bound to be some public backlash, but doesn't believe there will be anything legally that will prevent them from setting up the shelter.