Federal Program Give College Graduates Option During Job Search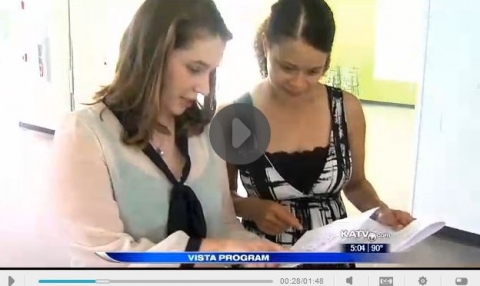 KATV – Breaking News, Weather and Razorback Sports
By Justin Lewis
LITTLE ROCK (KATV) — College graduates around Arkansas continue looking for jobs to kick start their careers, but for those still searching there is some hope from a federal program.
Many college students continue the stressful application and interview process for jobs, while wondering what their future holds. When it comes to public service there's an attractive option, especially when it comes to paying off debt: VISTA
Kristyn Willis of Fort Smith holds a degree in psychology from Arkansas State University and a masters in community development from Vanderbilt. Willis is now part of Our House charity in Little Rock thanks to the VISTA program.
"there was a little bit of hesitation just because the pay is at the poverty line. At the same time it felt like the right thing to do because i want to work with people who live close to that poverty line."
VISTA, which stands for Volunteers in Service to America, offers graduates facing unemployment an option to make a minimal income for a year, then receive about $5,600 to help with college debt, or future education.
"I do have college debt, and this will help me pay off a large chunk of that," Willis added.
Payment is usually about $900 monthly, but according to those with the AmeriCoprs Vista program, the experience is priceless.
"Going into the program they have the opportunity to do work that's at a management level," said Opal Sims, Arkansas' state program director at the Corporation for National and Community Service.
Sims said each year the program has about 80 VISTA openings, but receives 300 to 400 applications.
"By in large when people leave, I would say 99.99% of the folks, when they leave this program they always say that they got more than they gave," Sims added.
Our house is seeking additional help through the VISTA program, to apply visit their jobs page here: http://ourhouseshelter.org/jobs/