Architects Jennifer Herron & Jeff Horton Expand Space, Opportunities for Our House Children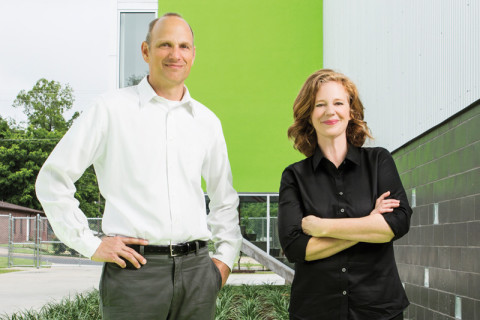 Soiree. For more pictures and full article, click here.
Photography by Rett Peek
When husband-and-wife architecture team Jennifer Herron and Jeff Horton take on a new project, their approach is a little different than the rest. They immerse themselves in the culture and daily lives of the people who will be using their spaces; they meet with them, learn more about them and consider their feedback and opinions; they do extensive research; they plan and sketch, then re-plan and re-sketch. In short, they do their homework, and then they take it a step further and do the extra-credit assignments.
So when the couple signed on to design the new, 19,000-square-foot Children's Center for Our House, they poured their hearts and souls into the project.
"Everyone deserves a well-designed space to live, work and grow. We didn't want to give Our House a clinical-type building, which it very easily could've been. Just because these children are homeless or on the edge of becoming homeless, doesn't mean they deserve anything less than other children. We are all human," Jennifer says.
Made for Kids
Jennifer and Jeff had numerous goals in mind when designing the new center. They wanted it to be a place that was comfortable, but stimulating for kids and a place where parents could feel good about leaving their children. "We also thought about this space/building as being an innovative and appropriate developmental place for continuous learning — grounded in community, neighborhood, city and state," Jennifer adds.
With those things in mind, the Herron Horton team created an expansive building that houses an infant room, two toddler rooms, a 3-year-old room, a 4- to 5-year-old room and a 6- to 8-year old room. There's also a multi-use space, creative room, technology room (with a music recording studio), a teen room, a wellness room, a commercial kitchen, offices and so much more.
Details specifically designed to serve homeless children are subtly woven throughout the entire space. There is a well-defined lobby/common entry, which Jennifer and Jeff say gives children a clear sense of space, predictability and security. "Both parents and children can experience separation anxiety, so an attractive and cheerful entrance can dispel fears, inviting them to enter a place designed just for them."
The classrooms have built-in cubbies, as it's important for homeless children to have their own space, however small. There are also areas designed for naps and quiet time, and a bathroom with a shower, cabinets and clean clothes. "A child can take a shower and put on a clean set of clothes after sleeping in a car and then join his or her group. No other child has to know that they live in a car," Jennifer says.
Numerous windows — many kid's-eye level — offer natural light and outside views, and a bright color scheme adds the finishing touch. "We wanted to use fun, bright colors, not primary colors that are typically thought of when working with kids," Jeff says. "We also considered colors in ways to help kids identify their space and group, i.e. 'I'm with the orange group and next year I'll be with the blue group.' For homeless children, it is important to identify with a group."
The multi-use room features a painted wall with a mosaic of different shapes and colors that blend well together — "like the community at Our House," says Jennifer.
The staff also has an expansive, centralized room for donations, an area to do laundry and a resource room where they can prepare for the day/week/months ahead, all spaces that were missing from the former location. And the list of amenities and kid-friendly features in the new space goes on and on.
Compared to the 4,000-SF former ambulance garage that previously housed the children's center, the adult learning center, staff offices and more, the new Children's Center is a vast improvement.
According to Our House Executive Director Georgia Mjartan, the Children's Center is a godsend. "For the last several years, we've had to turn people away," she says. "We won't have to do that anymore. It will triple the capacity of our children's programs and we will be able to bring in a teacher who's specifically going to teach art and music. The kids will be able to do sound mixing and all sorts of stuff. It serves more people. And better."
Community Focused
This may be the largest project Herron Horton has completed for Our House, but it's not the first. Their relationship dates back to 2007, when Georgia met the team at an American Institute of Architects Arkansas chapter community service program entitled, "Blueprint for America: A Gift to the Nation."
In this one-day event at the Governor's Mansion, architects from all over the state joined together to design innovative housing options for the homeless — not for a particular nonprofit, but just as an exercise, recalls Georgia. "I got to attend as a homeless service provider and I was in a group with Jennifer Herron," she says. "She was so mission-focused that I could see her passion for architecture was integrally connected to her passion for people and community."
Remembering Jennifer and Jeff's commitment to the community and their skills as creative architects, Georgia called on the team to help her with a much-needed renovation in 2010. "We had two buildings that were part of the old VA Hospital complex that were built in the 1950s, and they were literally falling apart," she says. "It was a time of growth for Our House and we were really stretched tight on our budget. Yet I knew we had to invest in these buildings or it wasn't going to be a safe place for our children or families. We didn't have money, but we needed plans and drawings before we could write grants or raise funds. It was a dilemma."
So Georgia reached out to Jennifer and Jeff with a tall order. "I said, 'Hey, I know you guys have a heart for serving the community, so would you consider doing some design work pro bono so that we can start raising money? Honestly, I don't know if I'll ever be able to pay you,'" she laughs as she remembers the conversation. "But they said, 'Absolutely.'"
Jennifer and Jeff came out and observed how the homeless used the center, watched the traffic flow and interacted with the residents to get their feedback. They analyzed the physical issues, as well as the programmatic issues. A few years later, Our House raised the money and was able to complete a $700K renovation with the Herron Horton team.
After such a successful experience, Georgia knew exactly who to call when Our House was ready to start the new Children's Center project. "I reached out to Jennifer and Jeff again with a $5 million Children's Center project. We looked at a lot of firms, but ultimately, our selection committee was really moved by their commitment to the community, in particular, downtown," Georgia says. "They had a wealth of experience working with children's programs and schools and they were also really cost competitive. From all of those angles, we selected them."
Parents of two, Jennifer and Jeff are passionate about projects involving children, especially those who are disadvantaged. Jennifer ticks off the dismal statistics of homeless children in the state: Arkansas has the third highest number of homeless children in the U.S.; homeless children are four times more likely to show delayed development and two times as likely to have learning disabilities as non-homeless children; by age 12, 83 percent have been exposed to at least one serious violent event; they have three times the rate of emotional and behavioral problems compared to non-homeless children; 74 percent worry that they'll have no place to live; and the list continues.
Philanthropists as well as architects, Jennifer and Jeff have set out to to combat these statistics. One thing they have done is set up the Herron Horton Architects Charitable Fund through the Arkansas Community Foundation. "Through their fund, they support youth programs, education and the arts," Georgia says. "And they're supporting our arts education program in our new Children's Center. They're donors and they're sponsors. They work really hard to earn funds, then they give away those funds."
For Jennifer and Jeff, the reason is simple. "We believe that working with organizations that empower the people within our city helps create a stronger community where design excellence can be truly transformative," Jennifer says. "Our wish for the children at the Our House Children's Center is to be able to learn, laugh, play, make a friend, eat a good meal, feel good about themselves because they are deserving and of value. Hopefully, the architecture of the building can help aid in this process and development."