Child Homelessness: Growing Problem in Arkansas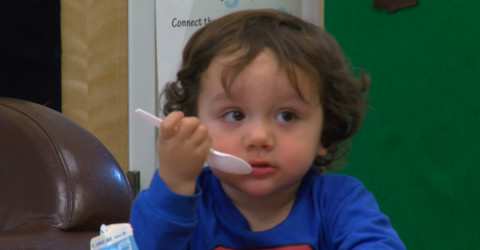 KARK
by Stephanie Sharp
LITTLE ROCK, Ark. – Each night hundreds, if not thousands, of kids in Arkansas find themselves without a place to call home. Homelessness for children is a growing problem in Arkansas.
According to the National Center on Family Homelessness, each year 21,000 Arkansas kids experience homelessness, and 250,000 kids in the state are living in poverty.
Kids at Our House in Little Rock stomp, play and eat a full meal in a pre-school class filled with learning.
Even with smiles of their faces, some of the kids may not know where their next meal will come from or whether they'll have a place to call home when the last bell rings.
"The face of homelessness has changed. It's no longer a single person; it's families with children," said Our House executive director Georgia Mjartan.
Mjartan says some of these kids are not homeless at all. Others are just getting out of homelessness, but some are staying in a shelter, and others have no bed to rest in at all.
Mjartan adds, "Many of the families that have come to us have been sleeping in their cars, have been living in their home without utilities."
Child homelessness is a growing problem, according to the people who see these kids every day.
"One of the hardest things about this work is we don't have enough space," said Mjartan. "In any given month we turn away about 200 people, and of that 200 people, 60 of them are children."
"The reality is that that number is not declining rapidly enough," said Union Rescue Mission executive director Keith Medlock.
Medlock wishes the state would do more because non-profit organizations can only do so much.
"The more I look into it, and the more I think about it, the more upsetting it becomes," said Medlock. "This is not an answer for the state of Arkansas."
The kids at Our House are as happy as can be, but for some, finding a place to lay at night is the biggest challenge.
"They are the hidden face of homelessness, the children who nobody sees on the street corner," said Mjartan.
There is a ten year plan to end chronic homelessness in central Arkansas. It is proposed to end by 2016. The Union Rescue Mission says the state still has a long way to go.
The non-profits say the best way you can help out is by volunteering your time or donating to different organizations that help homeless children and families.