Our House, Our Home: Mjartans Make Life's Work Out of Making the Most of Each Day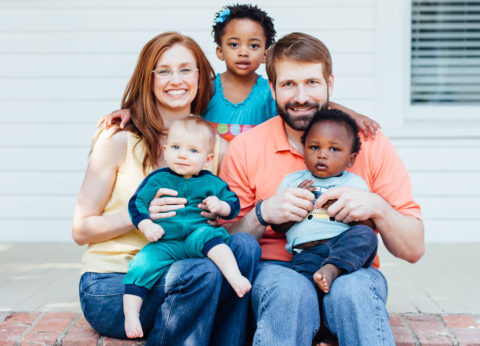 Warmth. It's one of those qualities individuals possess that's not only comforting, but it creates a genuine sense of calm in those who have the fortune of existing around them. The Mjartans are the epitome of warmth.
I must confess that the monumental task of writing about our May feature family has flummoxed me. It's not because there's limited content or depth to their story, but rather the opposite. The family's souls are so genuinely beautiful I don't think words can adequately describe them. They embody authentic altruism. They exude the brand of warmth you feel on a perfectly temped spring day. The kind of day where the sun shines on your face and you have to stop for a moment to just absorb how truly great you feel.
The Mjartans make you feel great. They exhibit genuine graciousness. They embrace moments of life and even chaos with humor, candor and gratitude. When I asked Georgia Mjartan what they enjoy doing together now that they have three kiddos under the age of three, she widely grinned and said, "competitive diaper changing!"
So, who are the Mjartans?
Georgia Mjartan is the Executive Director of Our House in Little Rock. The non-profit's mission is to "empower homeless and near-homeless families and individuals to succeed in the workforce, in school, and in life through hard work, wise decision-making, and active participation in the community."
Dominik Mjartan is the Chief Executive of Southern Bancorp Community Partners. It is a community finance non-profit that provides banking services, financial counseling, and loans in one of the poorest regions in the country, southern Arkansas and the Mississippi Delta.
The Mjartans have a two-and-a-half-year old daughter named Melody, a 15-month old son, Dominik, Jr. and an 8-month old son named Jozef.
How did this dynamic duo and now force of five come to be? The whirlwind started with a tornado.
"We were both Donaghey Scholars at UALR. We had the same classes, general curriculum," explains Dominik. He had come to America as an exchange student from Slovakia. He lived in Camden and completed his junior and senior years of high school in one year.
With a wide grin Georgia shares, "I chased him down for the entire first semester of college. He was very serious. I told my friend that I had dibs on the guy with the strange accent. I asked him to be in study groups. I got nothing."
Then Georgia painstakingly picked out the most benign Christmas card she could find to give to Dominik. She describes it as having two snowmen on the front with the message, "Happy holidays friend." She did write a long note inside with a holiday invitation and her number though. "He called me then cancelled on me," she laughs.
In January 1999, a tornado hit downtown Little Rock where her family home was. Dominik called her. He had heard that a tree had fallen on her car. He showed up with a chainsaw and freed her car from the entangling limbs. She says, "That was basically our first date." They've been together ever since.
Dominik and Georgia got married at a peach orchard on the Saline County line two weeks after they graduated from college. Two months later they moved to Ireland where they continued their educations. Georgia was a George Mitchell Scholar and holds a Masters of Science in Public Affairs and Political Communication. Dominik holds an Executive Masters of Business Administration.
When they returned to the United States, they stopped in New York to buy a car and literally drove back to Arkansas where their new careers awaited them. Georgia did for-profit consulting with large foundations. Dominik worked for a .com start-up company.
During this time Georgia was introduced to the Our House organization. A board member toured her through what was then Our House at a different location in downtown Little Rock. She recalls, "I was 23 years old. When I walked through, there were women and children, kids' clothes, toys. I wanted to make a positive change happen here. I remember thinking I need to do something about this."
"I helped with Our House for two years as a volunteer then one of the board members called me. Three weeks later I was the executive director. That was 10 years ago," Georgia says.
"At that time the phones were going to be shut off and we couldn't make payroll. So many people helped. Now we have a $2.5 million budget. We don't worry about payroll tomorrow. We worry about it a year from now," she says gratefully.
In the meantime, the economy experienced a downturn and Dominik turned his interests toward Our House as well. "He networked the entire Our House network. He was my COO and my secret weapon," she says with a smile at Dominik.
"It was a wonderful experience to see the business come alive. That was my introduction to social enterprise and how it should work. It was a significant change in my perspective from living in the Fortune 100 world," Dominik describes. He then was presented with the opportunity to work for Southern Bancorp, a bank that was founded to create opportunities for people who wished to improve their lives. "That was more than 10 years and $700 million assets ago. A key turn for me was the experience at Our House," he says.
Also during this timeframe, Dominik has run a property and construction business named Melody Enterprises after their first child. His father ran a successful construction business in Slovakia. That is where Dominik learned about building but also about the kind of father and businessman he wanted to be. He shares the story of a crane operator he met at his father's funeral a couple of years ago. "After the revolution, a lot of jobs were lost. Your dad helped me," recalls Dominik. "He was good to his employees, loved big parties. His whole vision was to be surrounded by friends and family. He loved the tradition of making home open for everyone," he says.
Although Dominik's father was never able to meet their daughter Melody in person, he would show people pictures of her from his hospital bed in Slovakia. Their son Jozef is named after Dominik's father. Their son Dominik, Jr. is of course named after Dominik.
As the Mjartans began planning for children they found they would not be able to do so without infertility treatments. Their work with Our House inspired them to pursue fostering as well. "It gave us a chance to give kids a good life who needed it most. We wanted to be able to change their life trajectory," Georgia recalls of their decision. They now co-lead a fostering and adoption support group.
The first child they fostered was Melody. They got her when she was four days old with the understanding her birth mother was taking steps to get her back eventually. "She just wasn't in a place to be a parent long-term," Georgia says empathetically of that time.
When Melody was seven months old, they got a call about a three-month-old girl named London. The Mjartans fostered London for 11 months. The two girls grew up as sisters. Her biological father was able to be reunited with her. They are all friends, family and now the Mjartans are London's godparents.
Dominik and Georgia do not think of their foster children as just their foster children. They consider them their own children. Georgia grappled with what to say when people asked her about their foster daughters. She formulated this response, "This is my daughter through foster care."
Later, Melody's birth brother came in to foster care. The Mjartans were pregnant with Jozef through invetrofertilization. It was no wonder Melody was a bit confused when they told her that her baby brother was coming home soon. "She pointed at my belly," Georgia says.
Georgia cleared things up for her that it was actually Dominik, Jr. who was coming first. "Melody was calling him my bruh, my bruh, my baby within a couple of days," she says warmly of that time.
Melody's adoption was final on June 23, 2015. Jozef was born on July 21, 2015. Dominik, Jr.'s adoption was final on February, 16, 2016. Needless to say it has been a beautiful, exciting whirlwind of a year for the Mjartans.
Embracing and enjoying the chaos
Georgia grins widely and says, "It's really beautiful to have three kids, two and under. So many people have given support and love."
"Everyone has been very generous. Some days we show up and there's random stuff on the porch…for us," Dominik muses. They double check with people now to see if the items are for their own family or for Our House programs.
The Mjartans credit Georgia's parents with being a huge help as well. "My parents give us breaks and date nights. We embrace the chaos though. It's really valuable to say we don't have to do equal things. We're both contributing in our own ways. It's also very important for us to have one on one time with each of our children," Georgia shares.
While Georgia and Dominik are at work, their children attend Little Learners at Our House. Dominik says, "It is top-rated childcare, economically diverse, every background, zip code and situation." He explains that private pay client tuition helps support homeless children who may attend which provides them with an excellent education and experience.
Georgia concludes, "Our family mission is to give all people a fair chance at a good life."
There are many ways to help at Our House!
Volunteer as an individual.
"Friends of the Family" Program
Provide professional services such as hair styling, dental care, etc.
Give a Year of Service as AmeriCorps
Internships
Court mandated community service
Volunteer as a family.
Encouragement and emotional support
Provide meals
Volunteer as a company or group.
Host events for residents or children's programs
Host a drive for current needs
Provide meals
Become a service partner
Go to OurHouseShelter.org for more information on events, programs, ways to donate and to volunteer.