Reality Show 'Project Voice' Illuminates Our House Programs, Lives of Working Homeless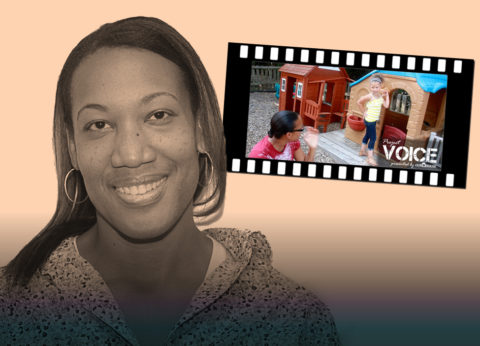 Last summer, Our House premiered Season One of "Project Voice," a literal reality show about homelessness in Little Rock. Each Thursday, another five-minute episode was released showcasing the life of a different client. The original 12-part documentary series, produced in partnership with Creative Act, opened a window into poverty and homelessness, while also giving voice to love, hope and family bonds.
As the release of Season Two nears, we checked back in with a particular family who made a big impression in the first season.
Renessa Brown and her daughter Karissa were featured in Episode Six. Brown had been at Our House for about a year when it aired. The single mother told the story of having her own place, a car paid off, finishing medical assistant school and feeling like she was doing well.
Then, a friend totaled her car. Without reliable transportation, she lost her job. It didn't take long for her small savings to run out. "One minute, we were on the top and the next minute, I don't have a roof for my baby," Brown says in the documentary.
She details the emotional toll homelessness took on her daughter and the despair she felt for their situation. "It's a hard pill to swallow because you think as a parent, you've failed," Brown recounts. "I just didn't understand why God would give me this precious little angel and I couldn't take care of her. That's a cruel joke. And I have to keep reminding myself that He gave her to me because He knows I can do it."
Today, Brown works at a pediatric clinic in Little Rock. She and Karissa moved out of Our House in the fall. She has a new-to-her vehicle. The last step to her definition of success will be an apartment she can afford without a roommate.
"We're doing OK. I want to get to calm medium," she says. "I want a place for just myself and my daughter. So I'm working toward that. Then I'll feel like we're doing great."
Making and watching Project Voice was therapeutic for Brown: "It showed me I was not the only person feeling like I was feeling," she says. Brown believes that it's also useful for people who have never experienced homelessness to see the series. "Don't just think someone is in a homeless shelter because they were doing drugs," she says. "Don't just look at anyone and assume you know how they got to where they are. You don't know."
She says if she'd had no other options, she probably could have found family to take them in. But she was glad she went to Our House instead. "I love that joint! I needed the resources they had there," Brown says. Besides a roof, bed and meals, Our House also gave her financial literacy training and other life skills training.
"There are so many things I wish I knew 20 years ago," says the 39-year-old. "But I didn't know them. And I'm not gonna beat myself up over it anymore. I'm doing good now. I wasn't saving. That was the main thing. I thought as long as my paycheck covered my rent and the few little bills I had, I was straight. But I found out real quick, that's not enough."
Our House also provides a step-down plan of action. Brown still has contact with her case worker from the shelter. She's able to use her as a resource when she has questions or needs advice. "She checks in with me about certain things," Brown says. "But sometimes I wake up to a random text, 'Just checking on you. Let me know if you need anything.' And I think, 'There are people in the world who care about me.' It means so much."
As for the future, Brown is still dreaming big. Her immediate goal is to secure a place for her and her daughter alone. Then she wants to go back to school to get her LPN. She believes more education will improve her prospects long term.
"We all fall," Brown says. "Some just fall a little harder than others. We just have to get up. That's what I'm showing my daughter. And yesterday when I picked her up from school, she said 'Mama! I fell off the monkey bars, but I got right back up and tried again.' And I told her "Yes, baby! That's how it works! You just keep getting back up.'"
Season Two of Project Voice is scheduled to air soon. Watch Season One at OurHouseShelter.org/ProjectVoice, or watch the episode featuring Renessa Brown below.