Hosts get hospitable for House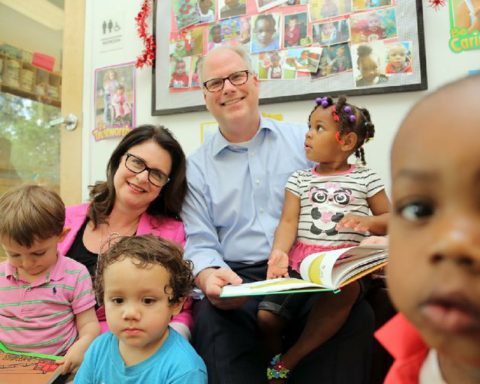 Arkansas Democrat Gazette
By Eric E. Harrison
A Southern supper at sunset is the centerpiece of the 11th annual Dinner on the Grounds, 6:30 p.m. Friday on the grounds of the Terry House, 711 E. Fourth St., Little Rock.
This year's Our House spring fundraiser is bidding to be the most successful yet, no small thanks to event chairmen Bobbi and Dustin McDaniel, who moved to Little Rock from Jonesboro in 2007 when Dustin McDaniel was elected as Arkansas attorney general.
He has been an Our House board member since his second term ended in January 2015. (He's now the lead counsel in the law firm of McDaniel, Richardson & Calhoun.)
But he has been involved for some time with the nonprofit, which started out as a shelter with job training and now helps hundreds of homeless adults get jobs, hundreds of homeless children succeed in school and hundreds of homeless families move into real homes each year, according to a news release. (Executive director Georgia Mjartan says last year's numbers were 499 jobs, 665 children and 528 people into houses and apartments.)
"I've been on the board right at a year," he says. "I was supportive while I was in office, and learned about the children's program and saw the need."
"I participated in one of their Sunday lunches to feed the residents and got first-hand experience" with the nonprofit, says Bobbi McDaniel. She also had friends with Our House connections, and she has been deeply involved in the fight against domestic violence, survivors of which are among the nonprofit's clientele.
Executive Director Georgia Mjartan says she approached Dustin McDaniel in January about chairing the event, and the couple jumped at the opportunity.
"I asked him, 'This is a huge thing to ask of anyone — would you consider chairing?' Without a pause, he said yes. Within 10 minutes: 'We're in, we'll do it.'"
"We knew it would be a good thing to do, and we were eager to say yes," Dustin McDaniel says.
The theme this year is "Hospitality in Bloom," and the McDaniels divide the "labor" on that as well.
"I wanted to think about the hospitality of Our House," Dustin McDaniel says. "And I was thinking of 'in bloom,'" Bobbi McDaniel adds.
"For me, it's a wonderful event," Bobbi McDaniel says. "It's casual, a little more lighthearted than most galas you go to. You can visit."
Among the McDaniels' major contributions are their pep talks to the 25- to 30- member committee, but they have so far been the chief fundraisers, pulling in more than $207,000 from sponsors across the state — and that doesn't yet count any of the ticket sales ($150 each).
"As much as we'd love to take all the credit, the staff has done a terrific job, and we've had a great committee of volunteers," Dustin McDaniel says. He also credits communications chairman Jessica DeLoach Sabin and state Sen. Jeremy Hutchinson, who, McDaniel says, has been responsible for bringing in some of the larger corporate sponsors.
Simply the Best Catering is putting together the dinner with food donated by Ben E. Keith and "springtime libations" donated by Glazer. The folks at South on Main are concocting a specialty cocktail; Loblolly Creamery, which has developed a special ice cream flavor just for this event, will park its food truck at the gate and will be providing the frozen portions of make-your-own root beer floats. Lost Forty will have a beer tent. Sweet Lavender Bakery will provide sweet treats.
Jazz/soul band Lagniappe will be making music for entertainment and dancing. Artist/illustrator Lyuba Bogan will be creating a piece of art on the site, which Our House will auction off later in the evening. Arkansas Democrat-Gazette artist/cartoonist John Deering will draw caricatures.
Also up for auction: a Florida vacation package for three couples provided by Dr. Richard and Pat Elimon and Southwest Airlines.
The fundraiser is important to keep Our House's programs going over the summer, Mjartan says, when homeless and near-homeless children don't have access to school lunches. "We provide for 150 kids, 10 1/2 hours a day, feeding them, taking them on field trips, enriching them with the arts, and so on," she explains.
It has moved around over the decade-plus-one years — this is the third or fourth nonconsecutive year they've held it at the Terry House — but it has always been primarily an outside event, Mjartan says. This year, there will be some activities inside of the mansion as well, for the benefit of attendees with pollen allergies or who are avoiding mosquitoes.
Dustin McDaniel also gives a big hand to Mjartan, whose 11-year tenure at the helm of Our House coincides with the 11 years this fundraiser has been going on.
"Georgia deserves so much credit," he says. "She's had a vision, and she's been completely tireless. She never sits back and says, 'Look at the great things we've done.' She's always looking ahead to see needs not yet served."
Tickets are $150. Call (501) 374-7383, Extension 228, or visit the website, ourhouseshelter.org/event/dinner-on-the-grounds-2016.