Our House Using New $1M Career Center for Increased Job Training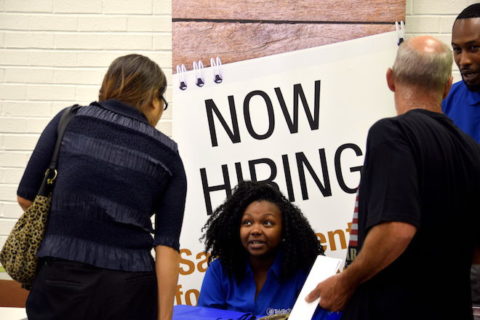 Arkansas Business
by Alexis Hosticka
Our House opened its new $1 million Career Center on Wednesday, quadrupling the capacity of the previous space and allowing for as many as 120 people to participate daily in job training and career education.
The new center features resources such as a teaching kitchen, which was not available in the old Learning Center, according to Our House Director Georgia Mjartan.
Our House helps homeless and near-homeless families and individuals to succeed in the workforce and in school through a wide variety of programs including a shelter, kids programs, and the Career Center.
Mjartan said that Our House, which has been around for 29 years, has incorporated a job-training center of some sort for the last 27 years. It began as "computer job training," teaching participants to use technology so that they could get jobs in what was, at the time, a relatively new field.
"What we've tried to do is build on that and expand on that and help people build their soft skills as well," Mjartan said.
Training at Our House includes an education hub, where individuals can receive assistance in subjects like math and reading in order to help them prepare to take the GED. The majority of people who come through Our House have less than a high school education.
The Career Center also teaches valuable skills for getting a job.
"They help clients with things as simple as setting up a work appropriate email address and getting ready to go on an interview," Mjartan said. "We have actual employers come in and teach hard skills four days a week – from how do you work in groundskeeping to chemical safety to food safety."
In 2015, the Career Center helped 499 adults find full-time jobs, with 288 different central Arkansas employers. Out of those 288, Our House is in an employee partnership with 15 of the businesses.
According to Mjartan, the partner businesses do more than just hire graduates of the Career Center. The  businesses attend job fairs, conduct skills training and help with mock interviews.
One employer partner is Sodexo, a food services and facilities management company that works specifically with CHI St. Vincent. Sodexo human resources manager Robert Evans-Fant said that the company became a partner of Our House about a year ago and currently employs four Our House clients.
"Our House let us find folks who are looking for opportunities and who may not have prior experience and allows us to partner with them and help get them back on their feet," Evans-Fant said.
He said that the quality of work the employees from Our House provide has been excellent.
"It's been amazing," Evans-Fant said. "The respect they have brought to the positions and their professionalism is spot on and has strengthened our partnership with Our House."
Another partner is the Holiday Inn Convention Center, which currently employs about 12 Our House clients, said Mjartan.
Our House went through an approximately two-year long campaign to raise the money for the Career Center. The project included the renovation of a 7,000-SF former VA ambulance garage, which has been part of the campus since 1991.
The goal at Our House is for people to leave the program with financial stability. Mjartan said that 74 percent of adults who leave the housing program leave with money in savings.
"This is part of a bigger picture that we define as our two generation approach to ending poverty," Mjartan said. "We're working with individuals to get out of poverty but we're working with school aged kids over the summer so they can graduate from high school, we're providing housing. It's comprehensive and this Career Center is just one aspect."