New bus shelter at Little Rock's Our House now memorial to altruistic teen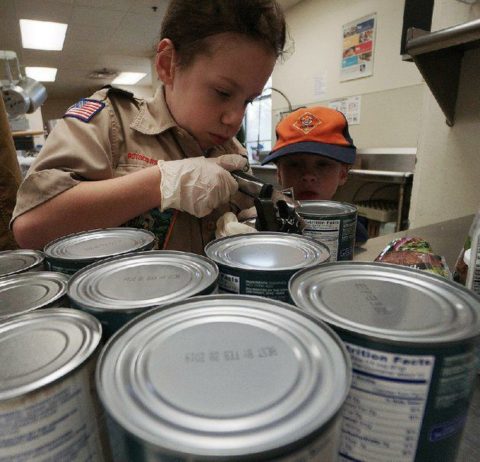 Click here to read the Arkansas Democrat Gazette's article
By Brandon Mulder
This article was published December 11, 2016 at 3:29 a.m.
Leland Wilson pulled out his phone to show one remaining example of his late son's effervescent personality. A video showed a wiry blond teenager standing in a living room as a beat began to play.
Prompted by phrases from the game Cards Against Humanity, Patrick Wilson began to freestyle.
"Bill Nye the science guy/Britney Spears at 55," he rapped.
"He had a real skill for extemporaneous speaking," said Laura Anne Warren, Patrick's mother. "He could just get on any topic and go …"
"… off the cuff," Leland said, finishing his wife's sentence.
On Saturday morning, Patrick's Boy Scouts troop prepared its December service project — a chili, beans-and-rice, and baked-potato lunch at the Our House homeless shelter in Little Rock.
The Scouts served the lunch instead of going on a camping trip, and they did it to honor Patrick, who in his quest to become an Eagle Scout had committed time working on a project at the shelter. His Scout project was raising a bus shelter just outside the home for all of its students. He built something simple, yet sturdy, and something badly needed to keep the kids out the weather. It took a year of planning.
"Most people just build benches or clean up trails, but this is amazing," said his brother, Ben Wilson, 15, who is also a member of Troop 27.
Patrick was 18 when a September skateboarding accident on the University of Arkansas at Little Rock campus cut his time short. He had just gotten into the sport, which had become popular among UALR students as an easy mode of transportation. But he took a hard fall and hit his head.
Now, in Troop 27, his absence is palpable.
"It was like a dagger to the heart, even though it wasn't my kid," said Louis Walker, Patrick's scoutmaster for four years. "This was the hardest thing I've pretty much ever had to go through."
Patrick had been diagnosed with autism, his mother said, but he didn't let the diagnosis keep him from being an outgoing, comedian-around-the-campfire kind of presence. With a sharp wit and a jovial spirit, he was "always scheming for the next joke," his mother said.
"When I first met him, he was a little more withdrawn, and as he got older and older he came out of his shell," Walker said. "He'd lead the troop. Anytime another kid needed help, he'd be right there. He was the life of the party when we were having campfires and that kind of stuff."
Patrick's aspirations were literary. He wanted to one day become an English teacher, and in high school was already reading some of the highbrow works of Friedrich Nietzsche, Soren Kierkegaard, and H.P. Lovecraft.
At Our House, he is now memorialized with a plaque at the bus shelter he created.
"This bus stop exists because of Patrick's generous spirit," a plaque freshly affixed to the structure now reads.
"Our House is about making people start their day and finish their day strong, and this brings just a little ounce of humanity back to kids who are fighting homelessness every day," Our House's Development Director Caroline Spencer said about the bus shelter during a ceremony Saturday to unveil the plaque.
"We can't thank you enough for raising a son who would do something like this," she said.
Metro on 12/11/2016