Head of Little Rock homeless shelter steps down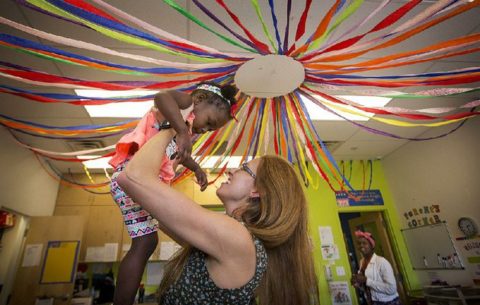 Click here to read the Arkansas Democrat-Gazette's story.
By Jeannie Roberts
Photo by Benjamin Krain
August 17, 2017
Georgia Mjartan, executive director of the Little Rock homeless shelter Our House, announced Wednesday that she is stepping down from the post after 12 years with the organization and her replacement has already been named.
Mjartan's last day at the helm of the shelter will be Sept. 15. She will move in the next month with her husband, Dominik, and three children to Columbia, S.C. where her husband will become chief executive officer of a community development bank.
"As I think about leaving Our House and leaving this state — my home and my community — the feelings that keep welling up in me are those of deep gratitude," Mjartan said. "Gratitude to each of you, who over the last twelve years have given of yourself to help be the fabric of support that lifts homeless and near homeless families and individuals out of poverty."
The Our House board of directors voted unanimously last week to name Ben Goodwin as the new executive director. Goodwin — a Rhodes Scholar with degrees from Hendrix College and Oxford as well as 13 years of experience in the nonprofit field — has served as assistant director of the shelter for the past eight years.
"Ben has an incredible intellect, is highly capable, but most importantly, his heart is in this place," Mjartan said. "He loves our clients and our mission, and he has demonstrated his dedication to our cause and to the community."
Board President Drew Weber credited Goodwin for working side by side with Mjartan to build Our House into the national model that it is today.
"He has been intentionally groomed for the executive director role as part of a succession plan approved by our board of directors two years ago, and he has participated in all major decisions of the organization for many years," Weber said. "He has a deep love for Our House, its clients, and its mission. He has the support and trust of the Our House team, and he has the full support of the board of directors."
Goodwin said he is going to need the community's help to succeed in his new role and encouraged the public to contact him with ideas or advice.
"The past eight years working alongside Georgia here at Our House have been among the greatest experiences of my life, and it is my deepest honor to have the opportunity to take the baton from her on Sept. 15 and continue the important work of building this organization into a national model for empowering homeless and near-homeless families to make a better life for themselves," Goodwin said.
Our House, which was established 30 years ago under founding director Joe Flaherty, helps hundreds of homeless families build new lives. The program has become a leading national model that is touted for its success in leading the homeless to jobs and homes.
During her tenure, Mjartan has seen thousands of homeless individuals and families come through the shelter. Five years ago, she introduced the Central Arkansas Family Stability Institute to serve former residents and community members in danger of becoming homeless.
The program works with the family as a whole and provides dedicated case managers as well as employment coaching, financial courses, children's programs and outreach to schools and other community programs. The goal of the initiative — funded by the Siemer Institute for Family Stability, the Heart of Arkansas United Way and the W.K. Kellogg Foundation — is to intervene before a family becomes homeless.
Since its inception, nearly 1,400 people — including 331 children — have been served by the Central Arkansas Family Stability Institute.
The Our House shelter has helped thousands of people since its inception. In the last fiscal year, more than 1,600 individuals, including nearly 600 children, were served. More than 700 people, including about 120 children, called Our House home during that time.
Under Mjartan's leadership, donations to the shelter have continually climbed. Last year, donations exceeded $3.3 million.
"Her deep and heartfelt love for Our House's clients and mission has inspired so many people, myself included, to get involved," Weber said. "This is a bittersweet time for all of us in the Our House family. We are sad to say goodbye to Georgia, our friend and colleague for so many years, but we are also excited for this new chapter for her and her family."
Bill Dillard III, Dillard's Inc. senior vice president and an Our House board member, said Mjartan's departure is a blow not only to Little Rock, but to the state.
"I'm frankly heartbroken to see her leaving Our House and Little Rock," Dillard said. "She was such an incredible asset to Arkansas. She was just such an effective advocate on behalf of the down and out, the marginalized, the least of these. She has such a big heart, but also has a real head for how to help people help themselves. She gave them a hand up versus a handout."
The decision to move was a tough one for Mjartan and her family, her husband said.
"It was an incredibly difficult decision given her impact in the community. Both of our jobs are so enriching to our lives and the lives of others," Dominik Mjartan said. "We received tremendous value by doing the work that we both do. We weighed that against the potential impact we can have in this new venture. It is perfectly aligned with our family values."
Dominik Mjartan — the chief executive officer of Southern Bancorp Community Partners and the executive vice president of Southern Bancorp, Inc. — worked with Goodman, his wife's successor, for years before he went to work at Our House.
"It was a really good time for her to pass it on to such a great leader that was ready and has a long relationship with the organization," he said. "Ben is an incredible person with many talents and so much depth."
Weber said they have a strong plan in place to ensure that Our House "does not miss a step" during the transition.
"This is an exciting time for Our House, an opportunity for our board and our team to recommit to the mission of the organization and, under Ben's leadership, build on our forward momentum, growing and improving our programs to make a deeper positive impact in even more people's lives," Weber said.