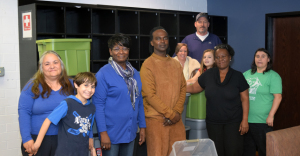 The need for Our House to create an alumni association came about by seeing former residents return to campus as donors, volunteers, and reentry as residents.  To this end, F.R.E.S.H. (Former Residents Educating Society on Homelessness) was founded in 2011 as an association of former residents interested in staying involved in the Our House family.  F.R.E.S.H. provides alumni a way to continue feeling connected with the rituals and developments of the current Our House community.
Through F.R.E.S.H., alumni are provided an avenue to give back to Our House as volunteers, while simultaneously acting as a buffer of support for current residents by offering wisdom from their own unique experiences as former residents. Additionally, F.R.E.S.H. alumni are given opportunities to share their stories in other venues, helping to promote a greater awareness of Our House and the issue of homelessness.

Some Ways F.R.E.S.H. Gives Back:
Serve regular meals at Our House.
Share their story and hope with current residents at Experience Meetings.
Attend fundraisers and host their own fundraisers for the group.
Plan community service projects like the Adopt-A-Street clean-up program.
And much more.
Are you a former Our House resident or CAFSI graduate and interested in participating in F.R.E.S.H.?

F.R.E.S.H. holds meetings once a month on the Our House campus. To find out more details, please contact the Housing and Alumni VISTA at 501-374-7383 ext 265 or housing@ourhouseshelter.org.
Here are some upcoming activities for the Alumni Group: