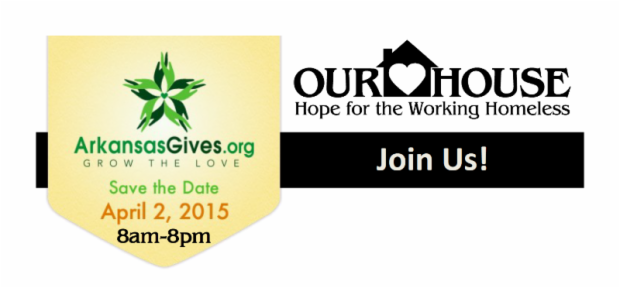 Arkansas Gives is a one-time opportunity to multiply your donation to Our House, making an even deeper impact in the lives of the homeless and near-homeless individuals and families we serve.
About Arkansas Gives
One-day event: April 2, 8am-8pm
Donations of $25 or more will be matched by the Arkansas Community Foundation, and
the Winthrop Rockefeller Foundation
The more donations Our House receives, the higher the match rate!
All donations are tax-deductible.
Donate Now!
You will receive a tax receipt email from Arkansas Gives right away. You will also receive a thank-you letter from Our House once we have received the list of donors from Arkansas Gives, which we have been informed may take several weeks. We would love to know who our generous supporters are before that, so please email connect@ourhouseshelter.org to let us know about your gift.
Thank you for your support!