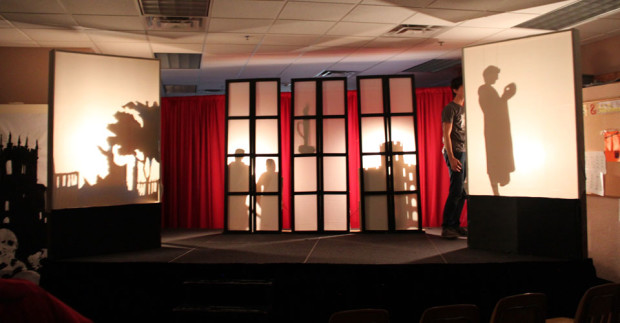 Now in its 4th year, Shakespeare at the Shelter is a summer-long community building project in which Our House clients and alumni come together with staff, volunteer scholars and theater experts to study the work of William Shakespeare, culminating in two performances of some of the Bard's most famous scenes and monologues. This program invites our clients to challenge themselves intellectually and provides opportunities to hone skills necessary in the workforce (team work and confidence chief among them). It also invites our community to challenge their assumptions about homelessness. It is our great pleasure to invite you to the 4th annual production of Shakespeare at the Shelter, Friday August 7th and Saturday August 8th from 7:30-8:30 p.m.
All money raised by Shakespeare at the Shelter goes to improve the quality of life for Our House clients. Proceeds from this year's event will go to further improve the Shelter kitchen as well as to purchase laptops for the Learning Center. With the assistance of over 50 generous volunteer groups, we provide 220 meals each day at the Shelter. Laptops for the Learning Center will support our adult education and employment services programs which provide support to over 500 shelter residents and community members each year.
When
August 7th and 8th, 2015
7:30 – 8:30 p.m.  
Where
Our House Shelter
302 E Roosevelt
Little Rock AR 72206  
Tickets are $20 each
Special Thanks to Our Sponsors!
Capulets and Montagues
               
Anne Parker          John and Michelle Terry
Knaves and Rogues
                       Judy and Don Adams        Jan and Larry Alman        Michelle B. Barnes
Arthur Paul Bowen        Susan and Nick Brown        Beth and Mike Coulson
Elizabeth Alexander and Ben Goodwin        Judy and Pat Goss
Edwin and Mark Williams-Greer        Herron and Horton Architects        Dave Hoffpauir
Clea and Bob Hupp        JTS Financial Services, LLC        Annabelle Imber and Henry Tuck
Dr. Roslyn Knutson        Garth and Joann Martin        Georgia and Dominik Mjartan
Allen Myers        Creshelle Nash        Tom Navin        Denise and Shannon Palmer
David and Barbara Pryor        Joy Ritchey        Cynthia and Aaron Salisbury
Dave and Anne Suitor        Jessie and Spencer Wilson
Get Involved
To learn more about volunteering, donating items or making a gift, please contact Courtney Sallings at shakespeare@ourhouseshelter.org.
Shakespeare Photos Shakespeare News