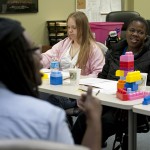 Position Description
The Housing and Alumni Relations VISTA will build new relationships and maintain existing partnerships between Our House and local landlords; identify community resources to overcome barriers to success in permanent housing; maintain an alumni group for former residents that provides a forum for supportive interaction and connects alumni with community resources; manage the Our House Friends of the Family program to help set up sustainable supportive relationships between Our House clients and the community; will provide programmatic and logistical support for all housing programs including the CAFSI program; coordinates the Our House food programs; serves as main point-of-contact for volunteer meal serving groups; provides support to meal serving groups including training, scheduling, and recognition; and maintains detailed contact information about meal serving groups.
What is AmeriCorps?
AmeriCorps VISTA (Volunteers in Service to America) is a national community service program with the aim of expanding and strengthening the administrative, organizational, and financial capacity of anti-poverty organizations.  VISTA Members commit to one year of full-time service, for which they receive a modest living stipend.  At the conclusion of a successful term of service, VISTA Members are eligible for either a Segal Education Award or a cash payment.
Candidates must be passionate about serving the homeless in Central Arkansas.  Other requirements include a college degree and the ability to commit to one year of service (August 12th 2014 to August 15th 2015) at Our House with no outside employment.
To learn more about giving a year of service, please visit our AmeriCorps page.
How to Apply
There is a two-step application process:
Send a cover letter and resume to Joy Ritchey at joy@ourhouseshelter.org. Put the position you are interested in as the subject line.
Go to the AmeriCorps Portal, create an account and apply for the position online. If you need assistance with your online application, contact Joy Ritchey.
Helpful Links
In-Kind Donations VISTA
Education and Workforce VISTA
Back to Jobs Page