Our House thanks you!
If you have ever been in the shelter, the first thing everyone sees when they walk in—residents, staff, and visitors—is the Wall of Honor where we recognize our top donors and supporters. Click on the images for a closer look at our top donors from the fiscal year ending June 30, 2013.
Meal Servers
Regular Food Donors
3M
Acxiom
Jan & Larry Alman
Altrusa
Awareness Center International – ACI Children s Ministry
Bryant First United Methodist Church
Caldwell Serving Group
Calvary Baptist Church
Cathedral of St. Andrew
Jennifer & Mark Cherry
Christ Lutheran Church
Christ Temple Cathedral
Christ the King Catholic Church
Congregation B`nai Israel
Cornerstone Bible Fellowship
Faith Lutheran Church
Faith United Church of Christ
Fellowship Bible Church
First United Methodist Church of Maumelle
FRESH: Our House Alumni Group
Garver
Girlfriend Group
Greater Archview Baptist Church
Greater Second Baptist Church
Highland Valley United Methodist Church
Immanuel Baptist Church
InVeritas Research & Consulting
Lakewood United Methodist Church
Lifeline Baptist Church
Massage Envy
Mosaic
Ms. Karen's Dance Studio
Mt. Calvary Missionary Baptist Church
Our Lady of Good Counsel
Our Lady of the Holy Souls
Pershing United Pentecostal Church
The Phelps Family
Pleasant Valley Church of Christ
Pulaski Heights Baptist Church
Second Presbyterian Church
Shepherd of the Hills
Somer's Avenue Church of Christ
St. James United Methodist Church
St. John Missionary Baptist Church
St. Mark Baptist Church
St. Michael's Episcopal Church
St. Michael's Episcopal Church
St. Paul Baptist Church
Trinity United Methodist Church
Unitarian Universalist Church of Little Rock
Upper Room Apostolic Church
The Winburn Financial Group
Zuberi Foundation
Regular Food Donors
Arkansas Foodbank
Ben E. Keith
Boulevard Bread Company
Catering 2 You
Community Bakery
For Goodness Cakes
Gusano's Pizza
Jimmy John's
Krispy Kreme
North Pulaski Farms
Starbucks Coffee
Southwest Power Pool
Whole Foods Market
U.S. Pizza Company
Fellowship Bible Church

Board of Directors
Jan Alman, President
Jonathan Shively, Vice President
Debi Barnes, Secretary
George Knollmeyer, Treasurer
Steve Bardwell, Past President
Kent Sorrells, Executive Committee Member
Annie Abrams
Susan Brown
Joe Carter
Andrew Collins
Jessica Dean
Dave Hoffpauir
Amanda Hughes
Janet Korenblat
Joe Marriott
Rusty Mathis
Barath Mohan
Amy Pierce
Chris Schaffhauser
Mary Shue
Danyelle Walker
Drew Weber
C. Michael White
Darrin Williams
Advisory Board
Alan Abston
Kirk Bradshaw
Beth Coulson
Karen Flake
John Fowler
Clay Glasgow
Valerie Pruitt
John Tisdale
Annabelle Imber Tuck
Evelyn Rose
Lynn Hamilton
Bob Holloway
Vicki Kovaleski
Janell Mason
Barry McDaniel
Tom Navin
Jan Scholl
Guy Wade
Kathy Wells
Bev Wittenberg

Community Council
Darlene Alexander
Marrisee Boyd
Susan Brown
Curtis Chatham
Dashauna Daniels
Don Ernst
Melissa Ferrell
Shanon Ford
Katy Grennier
Maggie Hawkins
Jay Hedges
Erma Hendrix
Woodie Sue Herlein
Dave Hoffpauir
Allison Martin
Nekita Nash
Christina Owens
Anna Parker
Rosann Quilty
Randi Randles
Sarah Rider
Bobbie Riggins
Sharon Sanders
Nina Scaife
Mary Shue
Cynthia Watson
Sabrina Zarco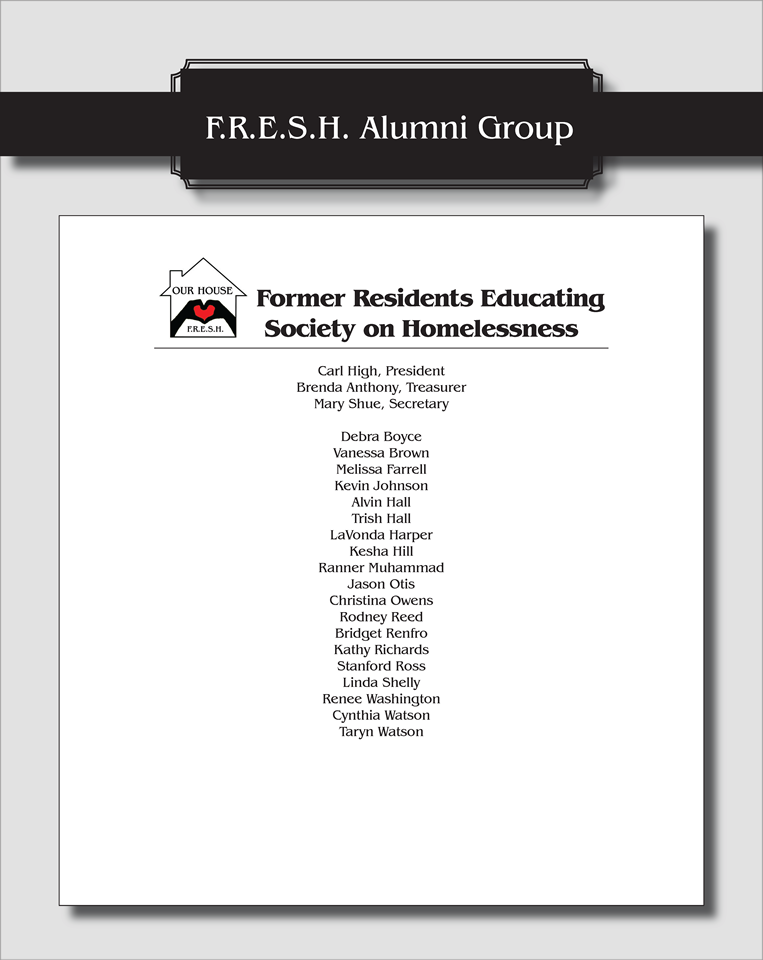 F.R.E.S.H. Alumni
Carl High – President
Brenda Anthony- Treasurer
Mary Shue- Secretary
Debra Boyce
Vanessa Brown
Melissa Farrell
Kevin Johnson
Alvin Hall
Trish Hall
LaVonda Harper
Kesha Hill
Ranner Muhammad
Jason Otis
Christina Owens
Rodney Reed
Bridget Renfro
Kathy Richards
Stanford Ross
Linda Shelly
Renee Washington
Cynthia Watson
Taryn Watson

Corporate Circle of Support
Our House welcomes the committed support of groups and companies by honoring them as part of Our House's Corporate Circle of Support. If you would like to know more about this or other sponsorship opportunities, please contact our Executive Director Georgia Mjartan at georgia@ourhouseshelter.org.
Events Sponsors
Please visit our Sponsors Gallery to see who has helped make Our House into what it is today. You can see sponsors for Dinner on the Grounds, Our Club Summer and more.